Toddler Classes
(12-28 Months)
Your baby is becoming a toddler which means more activity and independence. Our toddler classes are specially designed as your child grows and learns. Toddlers will benefit from problem-solving, exploring and socializing.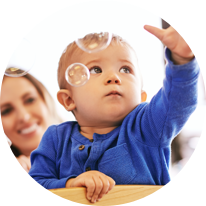 Play & Learn 3 (8-16 Months)

Practice physical skills like balance and coordination, while the teacher encourages discovery and exploration for both parents and children! You'll learn more about how your little one interacts with the world around them and how you can help with their discovery.
Play & Learn 4 (16-24 Months)

Let your toddler take the lead in this fun, fast paced, and engaging play class. All activities are designed to explore opposites, like Stop and Go! Watch as your child's language develops rapidly while moving across the equipment and exploring. Teacher-led activities support the play that's happening naturally, providing opportunities for children to grow their confidence and skills.
Play & Learn 5 (22-36 Months)

Time to take on imagination! Creative themes are introduced each week in this playful, social class. Get silly with your toddler and learn how we can add to their imaginative fun with props, songs, and innovative games.
Art for All (18 Months – 5 Years)

Be inspired together and make colorful memories in the Art Studio. Sculpt with a giant block of clay, design a family tree, paint a mural or make a creation of your very own. Art classes are suitable for children ages 18 months – 5 years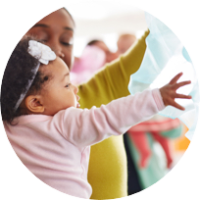 Play & Learn for All (16 – 36 Months)

Bring all your children to a class with important benefits to multi-aged learning. Explore play environments, movement games, fine-motor playtime, storytime and parachute activities. Activities are designed to enhance sibling collaboration. Infants and toddlers explore activities at their own pace, together!
BOOK A
FREE TRIAL
valid once for a 45 min class

Attire: Let your child explore barefoot. Their toes are needed for balance.

Socks: All Adults must wear socks while on the playfloor – no shoes are allowed. Please remember to bring a pair with you.

Health: Please bring only healthy children to class. We have a liberal make-up policy so you won't miss out on any of the fun!

Hug: Stay within an arm's length of your child at all times.


Refreshment: Food and drink are not allowed on the playfloor. Leave food and beverages in the kitchen.


Play Gyms: All enrolments include unlimited access to our Play Gyms.

Terms & Conditions: Schedule and prices are subject to change and apply to Nyon only.