Infant Classes
(0-10 Months)
We offer a wide range of play based classes for infants to experience and explore with mom and dad. Our dynamic classes support social, physical and intellectual development and give your infant the earliest start for the brightest future.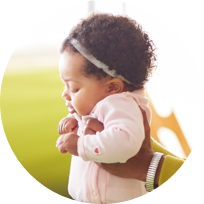 Sensory Baby Play  (2-8 Months)
Teacher-led activities that support strong sensory development and baby's first exploration of play! Engaging tummy time exercises, songs, and props provide fun for babies and parents alike. Meet parents just like you and learn play activities to do at home.
Baby Explore & Play (6-10 Months)
Build strength through play! Songs, props, and teacher-led activities provide babies with an engaging class experience, while giving parents fun tips and tools they can take home. Form friendships with other parents and watch how new babies experience their first social play time.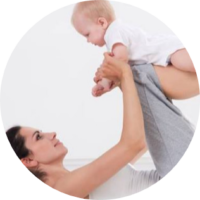 Yoga Mum & Baby  (2-12 Months)
Teacher-led activities from restorative yoga to calorie-burning cardio with your baby strapped to you or in a mat.  While you squat, calf raise and curtsy, the dynamic workout either bounces your baby off to sleep or gives them the giggles. This class also promotes balance, strength and work to tone overstretched areas.
BOOK A
FREE TRIAL
valid once for a 45 min class

Attire: Let your child explore barefoot. Their toes are needed for balance.

Socks: All Adults must wear socks while on the playfloor – no shoes are allowed. Please remember to bring a pair with you.

Health: Please bring only healthy children to class. We have a liberal make-up policy so you won't miss out on any of the fun!

Hug: Stay within an arm's length of your child at all times.


Refreshment: Food and drink are not allowed on the playfloor. Leave food and beverages in the kitchen.


Play Gyms: All enrolments include unlimited access to our Play Gyms.

Terms & Conditions: Schedule and prices are subject to change and apply to Nyon only.